Newington's family pool memberships are one of the best community pool bargains around. The Newington Pool offers life guard supervision, a food & drink concession, a diving board, a "kiddie" pool, a youth swim team, and family and single member memberships. You do not have to live in Newington to become a member.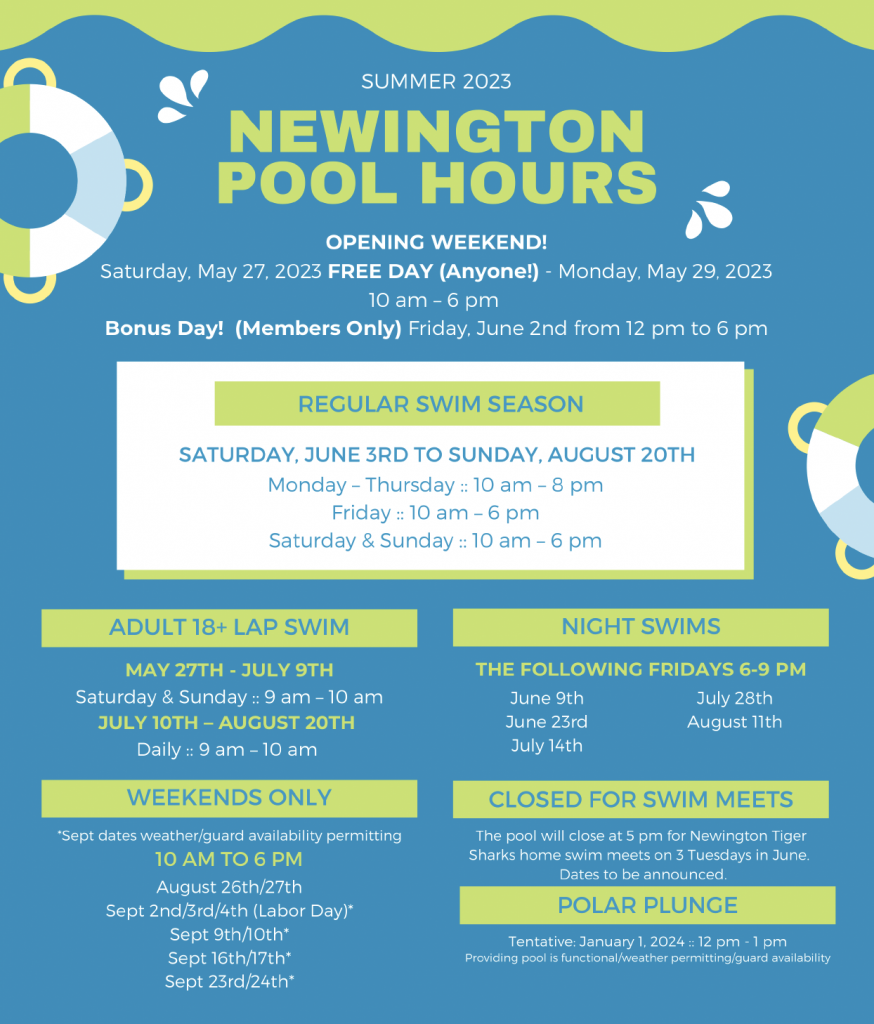 Membership Rates (Summer 2023)
2023 Pool season information
Pool sign ups:
Sunday April 2nd 4-6
Thursday April 6th 6-8
Saturday April 29th 10AM- 12PM


You may sign up at the pool during open hours.
Additional sign up at HOA General meeting on May 15, 2023 at 6:45 PM. This meeting will be at the Newington Elementary School Cafeteria. Cash or Check will be accepted.
We will continue to accept memberships daily when the pool opens. The attendants will have membership forms available or you can download from npeasc.com website.
We are very pleased to keep Pool membership rates the same and are listed below :
Newington resident (must be current on HOA dues):
Family – $265.00
Couple – $215.00
Single – $190.00

Non Resident:
Family – $350.00
Couple – $290.00
Single – $265.00
First time members there is a $60.00 Registration fee.Check and cash payment accepted.
For questions, contact the answering machine at the pool (843-871-1787) and your call will be returned. You can also send an email to newingtonpool2022@gmail.com
The Tigersharks are ready for another great CCAA swim season- full of fun and fast, competitive swimming.
The head coach is Victoria Merritt with assistant coaches Ryan Fischer, Madelyn Routhier, Justin Fischer, Tyler Briggs, Kennedy Elwood and Helen Hamilton. All coaches are competitive swimmers who have grown up swimming at the Newington pool and are proud to be a part of the Newington swim team.
Whether gearing up for high school varsity swim team or having a social summer while staying healthy, the Newington swim team provides a fun activity for kids ages 4-18. Many of our pool lifeguards, concessions attendants, and swim lesson instructors are current or former swimmers on the team.
Last year, the Tigersharks finished 6th of 19 teams in the Charleston area and were crowned white league champions in the dual meet season.
New and returning swimmers who are interested in joining the team should plan to sign up at the Newington pool on one of these dates:
April 2 4 pm-6pm
April 6 6 pm-8pm
April 29 10am-12pm

Practices are held on weekday afternoons, Monday through Friday beginning in May through the remainder of the school year. Practices will be held in the mornings prior to the pool opening once summer begins. Meets are traditionally held on Tuesday afternoons throughout the month of June.
Once the schedule is made available by the CCAA, it will be posted at the pool for patrons to be aware of. Please come out and cheer for our Tigersharks and enjoy the best concessions in town.
City Meet 2023 will be held at the DD2/North Charleston aquatic center July 8-9.